Product list
For pictures/products list click onto the product tab above
DIAMANTES
<![if !supportLists]> § <![endif]> Diamantes : Glue on
<![if !supportLists]> o <![endif]> Crystal AB only
<![if !supportLists]> o <![endif]> Crystal only
<![if !supportLists]> o <![endif]> All colours
<![if !supportLists]> § <![endif]> Diamantes : By the metre<![if !supportLists]><![endif]>
<![if !supportLists]> § <![endif]> Glue
DESIGNER STONES
<![if !supportLists]> § <![endif]> Designer Stones : Sew-on
<![if !supportLists]> o <![endif]> Top Quality
<![if !supportLists]> o <![endif]> Normal Quality
<![if !supportLists]> § <![endif]> Designer Stones : Glue on
<![if !supportLists]> § <![endif]> Designer Stones : Acrylic
FRINGE & TASSELS
<![if !supportLists]> § <![endif]> Cut Fringe
<![if !supportLists]> § <![endif]> Loop Fringe
<![if !supportLists]> § <![endif]> Other Fringe
<![if !supportLists]> § <![endif]> Beaded Fringe
BEADED TRIMMING
<![if !supportLists]> § <![endif]> Beaded Fringe
<![if !supportLists]> § <![endif]> Diamante Trimming
BEADS
<![if !supportLists]> § <![endif]> Seed Beads
<![if !supportLists]> § <![endif]> Bugle Beads
<![if !supportLists]> § <![endif]> Gold & Silver Beads
<![if !supportLists]> § <![endif]> Pearls<![if !supportLists]><![endif]>
<![if !supportLists]> § <![endif]> Beading Needles
PEARLS
<![if !supportLists]> § <![endif]> White Pearls
F

EATHERS &
FEATHER BOA
<![if !supportLists]> § <![endif]> Ostrich Feather by the metre
<![if !supportLists]> § <![endif]> Turkey Feather by the metre
<![if !supportLists]> § <![endif]> Marabou Feather by the metre
<![if !supportLists]> § <![endif]> Feathers : Loose
SEQUINS
<![if !supportLists]> § <![endif]> Sequins : Loose : Top Quality
<![if !supportLists]> § <![endif]> Sequins : Loose : Normal Quality
BUTTONS & BUCKLES
<![if !supportLists]> § <![endif]> Diamante Buttons
<![if !supportLists]> § <![endif]> Diamante Buckles
JEWLLERY
<![if !supportLists]> § <![endif]> Necklets
<![if !supportLists]> § <![endif]> Earrings
<![if !supportLists]> § <![endif]> Bracelets
<![if !supportLists]> § <![endif]> Brooches
<![if !supportLists]> § <![endif]> Rings
<![if !supportLists]> § <![endif]> Other Jewellery
OTHER TRIMMING
<![if !supportLists]> § <![endif]> Chain
<![if !supportLists]> § <![endif]> Fake Fur Trimming
MISCELLANEOUS
<![if !supportLists]> § <![endif]> Needles
<![if !supportLists]> § <![endif]> Glue
<![if !supportLists]> § <![endif]> Thread
for jewellery
About Us
PHOTIOS BROS COMPANY PROFILE
Photios Bros has the largest range of products in Australia including beads, crystals, dress trimmings, pearls, designer stones, fashion jewellery and jewellery findings, sequins, diamantes and feathers. It is a world leading supplier, catering globally to a variety of customers including bridal, dance, top fashion designers, theatrical, and individuals creating their own works of art from the beginner to the professional. Photios Bros was one of two major suppliers to the Opening and Closing Ceremonies of the 2000 Sydney Olympic Games and is also a main supplier of crystals and pearls to some of Australia's most well known Bridal Designers.
Photios Bros is a unique old fashioned company combining the old with the new. The showroom at 66 Druitt Street, Sydney, has retained its old world original interior from the 1950s and delivers old fashioned customer service with the benefits of modern technology. The friendly, knowledgeable, well trained, enthusiastic team of staff are always happy to guide and serve their customers to deliver excellent customer satisfaction. And, like the old days, the shop closes between 1-2pm (Mon-Fri) to give the staff a well deserved lunch break.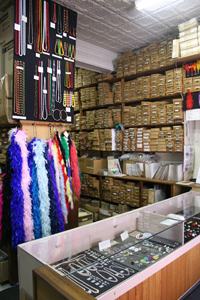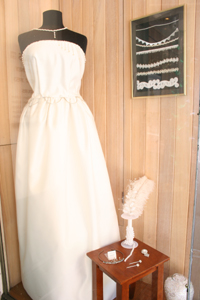 History

Photios Bros is a family business established in the 1920s by Basil Photios to supply a large range of top quality beads, crystals and fashion accessories to the public at wholesale prices. Basil travelled worldwide by boat to source the best products globally and some of these original products from the early days can still be found in limited supply for purchase today at Photios Bros. The company's original premises was in the Lyceum Building in Pitt Street, Sydney where the phone number was BX7428 (yes the phone numbers many decades ago had letters in them: our phone number today still has the last 3 numbers in it). In the 1950s the company moved to its current location in Druitt Street, Sydney and has passed through 3 further generations of the Photios family. Being in the heart of Sydney next to Queen Victoria Building and the Sydney Town Hall, the business is an icon of the fashion industry throughout Australia.


MISSION AND VISION STATEMENT
To be a world leading supplier of the largest range of quality beads, crystals and fashion accessories, providing these to customers at wholesale prices.
To provide customer service which is friendly, knowledgeable and efficient resulting in a high level of customer satisfaction.
To maintain an enthusiastic, positive, highly trained, efficient team of friendly staff with high level of job satisfaction.
To utilize modern technology and create a state of the art website for Photios Bros. which communicates globally the large range of products available and uses professional high quality photographs to display its huge array of items.

CONTACT DETAILS
Telephone
:(02)92671428
International Telephone
: + 61.2.92671428
Fax
:(02)92671953
New Temporary address
Station Street Thornleigh NSW Australia
(near Pennant Hills on Sydney's north)
Previous Address
66 Druitt Street, Sydney 2000 Australia
(close to Queen Victoria Building and Sydney Town Hall)
(Nearest cross Street is Clarence Street)
Trading Hours

: 9.00am - 5.00pm Mon-Fri (

closed for 1 hour

between 1.00pm - 2.00pm)
: 10.00am - 3.00pm Saturdays

Email Address



sales@photiosbros.com.au




When emailing please also supply your best contact phone n

umber, as we may need to call you back by phone to confirm details about your enquiry (eg : size, shape, colour or quantity), as we generally find many customers do not give us full details about the item they are interested in, and although this costs us more, we are generally happy to phone customers to speed up the enquiry process.
All part of the extra old fashioned customer service you will come to expect from Photios Bros.